CS500-N (Calibration Source)
calibration sources for verifying and readjusting infrared measuring devices according to ITS90.
Temperature range between 25 and 500°C / 77 and 932°F
Aperture: 30 mm / measuring area: 20 mm
Emissivity of the cavity: >0.99
For pyrometers with spectral range

0.5–14

µm
CS calibration sources form a complete calibration system:
Connectors for pyrometer, pyrometer analog output and PC
Controller developed in-house for optimal control parameters, simple setpoint specifications and the exchange of data between the calibration source, pyrometer and software
Inklusive Software SensorCal3:
– zum Erstellen von Pyrometer-Kalibrierzertifikaten
– Zur Einpunktjustierung von Pyrometern
– Zur automatischen Nachjustierung des Kalibrierstrahlers (benötigt den USB-Pt100)
– Zur manuellen Nachjustierung des Kalibrierstrahlers mit einem beliebigen Referenzpyrometer oder Thermoelement
– Bezahlversion zur Pyrometer-Volljustage verfügbar
More details
Calibration: The precise blackbody temperature specifications ensures that infrared measuring devices are within their specified accuracy. The calibration of digital Sensortherm pyrometers is possible with software support, and the calibration sources themselves can be checked automatically with a reference measuring device.
Adjustment: The readjustment of digital Sensortherm pyrometers and our calibration sources is possible via the SensorCal3 software. It sets the pyrometer or calibration source in adjustment mode, defines the necessary adjustment temperatures and monitors the correct operation sequence. A readjustment may be necessary if the accuracy no longer corresponds to it's original calibration, as thermal properties may have changed after a certain runtime.
A readjustment is possible fully automatically with our PT100 with DRACAL USB-converter.
Documentation: After each calibration or adjustment, the software automatically creates a pdf document with the results and can be saved for quality assurance purposes.
Operating manual / software
Enter the model and serial number: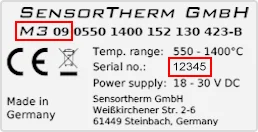 Suitable electrical accessories: